Missouri Fishing Lakes and Trout Streams
Welcome to River Run Outfitters - River Run Outfitters is a full line fly fishing shop located in Branson on Highway 165, about 1/2 mile north of the Dam and some of the best wading area. Branson is approximately 40 miles south of Springfield, MO, on Highway 65. Branson sits on the banks of Lake Taneycomo, which is one of the premier trout fishing lakes in the midwest and ranks among the top trout fishing spots in the entire U.S.
Table Rock Lake Weekly Fishing Report - A Table Rock Lake Missouri, fishing and lake condition report. From the shores of Table Rock Lake, near Branson Missouri, this report features fishing conditions, lake conditions, weather and links to other great Branson area sites.
Missouri Department of Conservation - Welcome to the Missouri Department of Conservation's Missouri rivers and their watersheds home page. From April to September, the Missouri Department of Conservation provides a weekly statewide fishing report listing conditions at assorted fishing areas throughout the state.
Welcome to Funlake.com! - Lake of the Ozarks Convention & Visitor Bureau. Cooperative of Missouri
The Army Corps of Engineers Little Rock District - Little Rock District has just completed upgrading its Water Management page. This new site is a one-stop shop for all the latest river and stream flow information, lake levels, water quality gages and forecasts. It links you to other Corps districts in the area and to other helpful sites.
US Corps of Engineers Water Management - Bookmark the site so you can visit it regularly before you tackle the white water or spend an afternoon fishing.
Trout Fishing Arkansas on the white river - You can catch a variety of Rainbow, German Brown and Cutthroat Trout on the White River in north-central Arkansas. From April until the end of September, the best time of day to go fishing would be from 5:30 AM until 10:30 AM and from 3:30 PM until 8:00 PM. The fish bite better at these times and you can avoid the hottest part of the day.
So if you are either a late or early riser, then you can catch a lot of fish. If you are just looking to catch fish of any size then you can fish with corn, crickets, earthworms, nightcrawlers and wax worms
Missouri Trout Hunter Guided Expeditions - Guided trout fishing expeditions and lessons, teaching you everything you need to know to catch trout in Missouri. Where to fish, how to find the fish, what the fish are biting on, and much more information about trout fishing in Missouri
Welcome to Lake Taneycomo - Located on the White River, Lake Taneycomo separates Table Rock Lake and Bull Shoals Lake with 22 miles of scenic, Trout filled water. Beginning on the outskirts of Branson and winding its way to Rockaway Beach, Taneycomo is lined with Trophy Trout angling opportunities. Resorts, campgrounds and marina's abound as do numerous public fishing docks. Most resorts and marina's offer bait and tackle, guide service or boat rental, plus as much free fishing advise as you need.
Rainbow Run Trout Park, Inc. - Rainbow Run is nestled in the middle of the beautiful Ozarks of Missouri about halfway between Springfield and Branson. At Rainbow Run we offer a quiet pleasant escape for families. Our property is an alcohol-free facility and we do all within reason to accommodate and make your time with us a positive experience. We offer the fun and beauty of trout fishing without the hassle of licensing and trout stamps. In fact, we supply all the gear you need and also clean and pack your fish on ice for you..
Rainbow Trout Ranch & Gun Club Rockbridge, Mo - Welcome to the Rainbow Trout Ranch and Gun Club. After exploring our web site come visit Rockbridge and enjoy this special getaway.
Ozark Angeler.Com - Best Little Fishing Site in the Net - "All round great fishing site covering southwest Missouri lakes - Table Rock, Taneycomo and Bull Shoals with information and lots of it. Kept very current and interesting, its fresh, honest approach has provide thousands with what they need to find and catch fish in any of the mentioned lakes. Keep checking back- we're always adding new stuff!!"

Lake of the Ozarks Lodge of Four Seasons - Lake of the Ozarks' Lodge of Four Seasons is a full-service lake resort - championship golf, award-winning restaurants, an excellent children's program, a full-service marina, nightly live entertainment, an in-house cinema, Resort Designs fashion boutique, Spa Eminence, the Tropic Island excursion yacht and more
Central Missouri's Official Lake of the Ozarks - Welcome to Central Missouri's Lake of the Ozarks, located approximately 180 miles from St. Louis, 170 miles from Kansas City, or 90 miles from Springfield, MO or 140 miles from Branson, MO. (Mileage estimated from Bagnell Dam.) This Web Site was created to inform the public of the various recreational facilities and opportunities available in the lake area, and to promote the Lake of the Ozarks as a premiere vacation spot.
Ozarks Campgrounds Directory - Full listing of lake area campgrounds. Many good rv park websites

Fishing Missouri Trout Parks-Bennett Springs - Fishing the Missouri Trout Parks, Bennett Spring State Park, Maramec Spring Park, Montauk State Park, and Roaring River State Park, Bennett Spring, Maramec Spring, Montauk, and Roaring River offer you exceptional fishing in crystal clear Ozark streams and are great places to enjoy the outdoors.
If you love trout fishing, these parks are for you! This Web site contains Missouri trout park facts, photos, and more. Here you will find answers to many of your questions about these parks, current weather conditions, park hours, and listings of upcoming events.

Lake of the Ozarks Recreation & Resource Locator - Welcome to the Lake of the Ozarks. Featuring 92 miles of main channel, this man made lake offers a wide choice of water sports, including boating, fishing, skiing, and swimming. Literally thousands of quiet coves dot the 1375 miles of scenic shoreline.
The surrounding communities offer an extensive calendar of events in addition to a diverse selection of amusement centers, churches, fine dining, nightly entertainment, retail and outlet shopping, along with sports, including more than a dozen golf courses.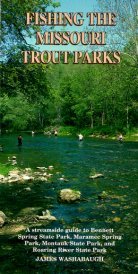 Stockton Lake Information Home Page - Stockton Lake is nestled in the foothills of the scenic Ozark Mountains. Its waters are home to several species of fish including small and largemouth bass, crappie, white bass, walleye, catfish and sunfish to name a few.
In addition to offering fishing, camping, and water sports recreation, Stockton Lake and Dam also provides hydroelectric power, as well as flood damage reduction, water supply storage, fish and wildlife management, downstream water quality improvement, and navigation flow supplementation.

Pomme de Terre Lake Area Chamber of Commerce - The Pomme de Terre Lake Area Chamber of Commerce welcomes you to the Osage Lakes Region and the Ozarks. For further information, you can reach us at: 800-235-9519 PO Box 36 Hermitage, MO 65668

Truman Lake - Welcome to the Missouri Lakes web site - The Truman Lake area provides not only the best fishing around, but also hunting on the thousands of acres surrounding the lake. This makes the Truman Lake area truly a sportsman's paradise.

Springfield's Fellows and McDaniel Lakes - These are fishing lakes only located just outside of Springfield. For information and directions contact

Springfield Information - Fellows Lake has a Marina with boat rental. Boats are 14 ft v-bottom with 8 hp motor. The boats rents for $30 for two hours $40 for 4 hours and $50 for 8 hours. There is a $50 deposit and the Marina is open 7 days. Call 417-833-2058. McDaniel Lake is a good fish-from-shore family fishing lake. The lake does have good fishing and is heavly fished by families with Kids. There is a long bridge spanning the main channel feeding the lake and is a good place to fish for Croppie any time and Catfish at night.

Lake of the Ozarks Campgrounds Directory - Full listing of lake area campgrounds complete with lake map and campground location. "This is a preferred site."

Missouri Concealed Carry CCW Handgun Shooting Courses by Matt Canovi of Springfield - provides the concerned citizen with practical defensive shooting programs based on research, fact, and common sense; not hearsay, rumor, and folklore.




Site Map Privacy Statement

Copyright © 2000 - 2013 Branson-Springfield.com. All rights reserved.
Contact Webmaster