About Branson, Missouri
Branson Entertainment News
Branson Restaurant Guide
Branson Attractions & Entertainment
Take a tour of Branson's country music shows, famous entertainment theaters, family theme parks and shopping malls. Spend a day at Silver Dollar City, Visit Table Rock Lake. Trout fish on Lake Taneycomo. Get wild and wet at White Water Park or ride the Branson Water Ducks. You can find it all right here! Branson Reservations Branson-Springfield web sites - includes the magic and meaning of holidays come to life during at Silver Dollar City Branson Shows lineup and Branson Information web site for shows and vacation packages; Silver Dollar City" Spectacular Festivals! Springfield's Wonders of Wildlife are frequently used web site. Branson Landing - discover uncharted waterfront shopping, dining and entertainment adventures at Branson Landing, located on the waterfront of beautiful Lake Taneycomo in downtown Branson.
Silver Dollar City hosts 6 World-Class Festivals throughout the year! Spring brings international performers to the Heartland for World-Fest, and two of America's greatest traditions are celebrated during the Midwest's biggest gathering of Bluegrass & BBQ Festival. Escape with your family during summer months to all the fun of KidsFest! Fall finds the most popular names in Southern Gospel music on stages throughout the park, and welcomes the National Harvest Festival featuring authentic harvest-time foods and demonstrating craftsmen. Then come home to Silver Dollar City during An Old Time Christmas, nationally recognized as one of the best holiday light shows in America!
Welcome to Ripley's Believe It or Not in Branson, MO - The 1812 earthquake made the Mississippi River run backwards for three days and made Church bells ring In Philadelphia! Our building reflects that odd event, and Ripley's Believe It or Not! in Branson has become one of the most photographed buildings In the world! more
The TITANIC Museum - The World's Largest Titanic Museum Attraction is a unique 90 minute walk-through experience. Marvel at the giant ship built half scale to the Titanic's original size. A journey that begins when passengers board the ship through an iceberg at the waters edge. Titanic Branson & Big Cedar Lodge Romantic Weekend Getaway.
American Presidents Museum - A Museum and Gallery of American Presidents. Visit the Oval Office, where you can issue your own Executive orders, learn about the Presidential Seal, take the Oath of Office and more about this center of activity in the West Wing - the President's work space. Tour the Hall of First Ladies, filled with First Lady memorbilia from Grace Coolidge through Laura Bush, you'll learn about the early duties and the locations of the offices of earlier First Ladies through today. See how they are the most trusted advisor to the President.
Dick Clark's American Bandstand Theater - Dick Clark's American Bandstand Theater is rockin with a revolving line-up of legendary rock stars including Righteous Brother, Bill Medley, Paul Revere The Raiders, Fabian, Bobby Vee, The Comets of Bill Haley, The Comets, Chris Montez, Brian Hyland, The Chiffons and more!
The Doug Gabriel Show at the Legends Theatre - Doug is one of Branson's regular performers at the Legends Theatre. You can also catch Doug at one of his on-the-road shows by going to "Tour Dates" on his web site.
Andy Williams Show - The Andy Williams Moon River Theater design reflects the beauty and environmental integrity of the surround Ozarks Mountains. The 48,000 square foot structure is set among 16 acres landscaped with foliage, rock formations, waterfalls and a rippling stream.
Grand Country Square - Grand Country Square is the place to be in Branson. Quality lodging, toe tapping music shows, great restaurants, fantastic shopping, an outdoor water park, indoor and outdoor pools, indoor mini-golf, large video game room and Missouri's only world-class, 86,000 gallon indoor water park will make Grand Country
Presleys' Country Jubilee - The original live country music and comedy show on 76 Country Blvd. in Branson, Missouri!
Explore Branson.com - Official Branson Missouri Lakes Area Chamber of Commerce has free family vacation guides, lodging & restaurants, shows & shopping, attractions & entertainment, fishing & golf, convention & visitors bureau, real estate, relocation & tourist information
Dixie Stampede Dinner Show Dixie Stampede Branson's Most Fun Place to Eat - Welcome to Dolly Parton's Dixie Stampede Dinner Show where you'll feast on a mouth watering four-course meal while witnessing a spectacular 32-horse show theme in a friendly North/South rivalry
Welcome to The Shepherd of The Hills - Branson, MO - The Shepherd of the Hills Homestead and Outdoor Theatre represent more than a tourist attraction to the Ozarks area. It marks the spot where Ozark tourism was born in 1907.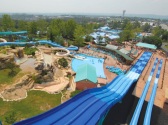 White Water Park - White Water is Branson's only outdoor water park and offers water-blasters, super-soakers, speed water slides, and a wave pool. Plus, Kalani Towers - the 6-lane Freefall and Racing thrill slide! Choose between two 75-foot freefall drop lanes or four mat racing lanes over 310-feet long.

Buck Trent Breakfast Show - Buck Trent, two-time CMA INSTRUMENTALIST OF THE YEAR and WORLD PREMIER FIVE-STRING BANJO PICKER, gets toes taping' and hands clappin' with his high energy country music show. Master Musician, Humorist and Entertainer Extraordinaire, Buck Trent's morning show puts a smile on your face for the whole day! Relax and savor the country breakfast and the incredible music of "Mr. Banjo", Buck Trent,all for ONE GREAT PRICE! We're located in The Grand Country Music Hall, providing
easy access and level parking.
Patsy Cline Tribute Show 2005 - The "From Patsy To Present..." Show Starring... Tracy Lynn (Formerly At The Branson Mall Music Theatre) has a Brand New Home at the Newly Renovated NOVA Music Theatre located In Branson, Missouri On The Famous Highway 76 Strip!!!

IMAX: Ozarks Discovery IMAX Theater - Located in the IMAX Entertainment Complex and is open all year. The IMAX Theater screen stands six-stories tall and 83 feet wide with a 22,000 watt surround sound system. Also at the complex are 21 unique shops, full service McFarlain's restaurant and Mcfarlain's Backporch Deli.
Hollywood Wax Museum - Get up close and personal with the stars! Grab your camera and join A-listers for pictures that will make the best postcards from Branson! From Lucille Ball to Lucy Lui and John Wayne to Johnny Depp, you?ll rub elbows with the stars?caught in the act of performing the most famous scenes in entertainment history. Skip down the Yellow Brick Road, sail aboard the Titanic, encounter Frankenstein and Freddy, and lots more. All new sets and interactive opportunities coming in the Spring of 2009. Fun for all ages. Open until midnight 365 days a year. Located on W. 76 Country Blvd. between Legends and Presley?s. (417) 337-8277.
Branson Scenic Railroad - Ride with us on a 40-mile roundtrip excursion thru Ozark foothills and tunnels. You will learn the history of the area as you cross bridges and trestles. Experience the luxury of rail travel from yesteryear.
Branson Tourism Center - Welcome to Branson Tourism Center. We offer discount show tickets, discount lodging, discount packages, even a discount on gas for your next Branson Missouri vacation.

Branson Missouri Information and Tourist Attractions - The Ultimate Branson Information Resource for Show Tickets, Attractions, Vacation Packages, Hotels, Lodging and more.
BransonVacation.com - Branson Vacations include fishing, camping, swimming, live shows, attractions, museums, fine dining, shopping and much more. In the heart of landingpic.gifBranson there are 75 Theatres, 120+ "live shows" & "attractions" such as Shoji Tabuchi, Jim Stafford, the 70's Music Show, Showboat Branson Belle, Dixie Stampede, and Silver Dollar City.




Site Map
Privacy Statement
Copyright © 2000 - 2013 Branson-Springfield.com. All rights reserved.

Contact Webmaster